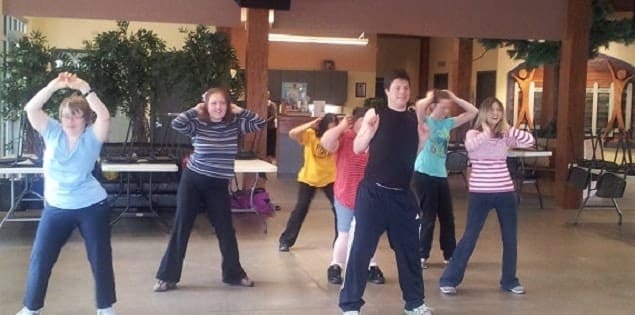 It's always exciting to discover a hidden gem in your community. Sometimes the most beautiful places are right in front of us, and we just don't know it yet.
South Surrey is home to a wonderful society based on inclusion, acceptance and diversity. This place is called Semiahmoo House Society.
At Semiahmoo House Society individuals with developmental disabilities are able to thrive. The centre is dedicated to providing a good life for those with disabilities based on the "dreams and needs expressed by the person or family".
What do they do?  
Semiahmoo gives people with developmental disabilities access to the lives they want to lead.
In any given day, you might see someone at Semiahmoo creating mosaic tiles to decorate the stairs, or rocking out in their band called the Rec Rockers. Perhaps you'll see a yoga class, a basketball game, or a group of young starlets rehearsing for the annual Extravaganza theatre production!
The options at Semiahmoo are endless. This is a place where anyone can find something they love – something to be excited and passionate about.
Perhaps the most striking aspect of this society is the feeling you get when you walk in. The facility is built around a big tree, so you walk in and you see life, you see joy, and you see happiness – you see a place where people belong.
How do I get involved?
To fill your life with beauty you must surround yourself with positivity. This has a different meaning for everyone, but one thing is for certain: time spent at Semiahmoo House Society imparts a deep sense of gratitude and appreciation for life in its many forms.
I encourage anyone with even a faint curiosity to volunteer at Semiahmoo House Society. By getting involved you will not only enrich the lives of others, but your own. You might even find yourself desiring a career in this field.
As a Community Support Worker, you help those with developmental disabilities advocate for themselves and reach their goals. You facilitate learning, lead programs, and see growth on a daily basis. It is an incredibly meaningful and beautiful career built around friendship and caring.
Learn More
To learn more about volunteering at Semiahmoo House, visit http://www.semi-house-society.com/volunteer.html.
If you are interested in a career as a Community Support Worker, check out our program.