Starting their journey on Tuesday, November 29, 2016, the Stenberg College Community Relations crew landed at the Dreams Take Off Education and Career Fair at Tradex in Abbotsford; the first of four stops on their tour throughout BC and the Lower Mainland.
The Stenberg team then headed to the Vancouver Island Conference Centre in Nanaimo on Thursday, December 1, followed by Prospera Place in Kelowna on Monday, December 5, and will be arriving at their final destination at the Vancouver Convention Centre in downtown Vancouver on Friday, December 9.
At the ECF events, bus-loads of high school students, their teachers and parents, and other inspired individuals are able to approach the Stenberg College activation, where they can participate in a photo booth that takes them around the world at the airline-inspired event. Attendees are able to pose in front of a green screen that generates backgrounds from various locations around the world, including London, Paris, Rome, Tokyo, and even outer space! As an added bonus, each participant is able to have a printed copy of their picture as a keepsake.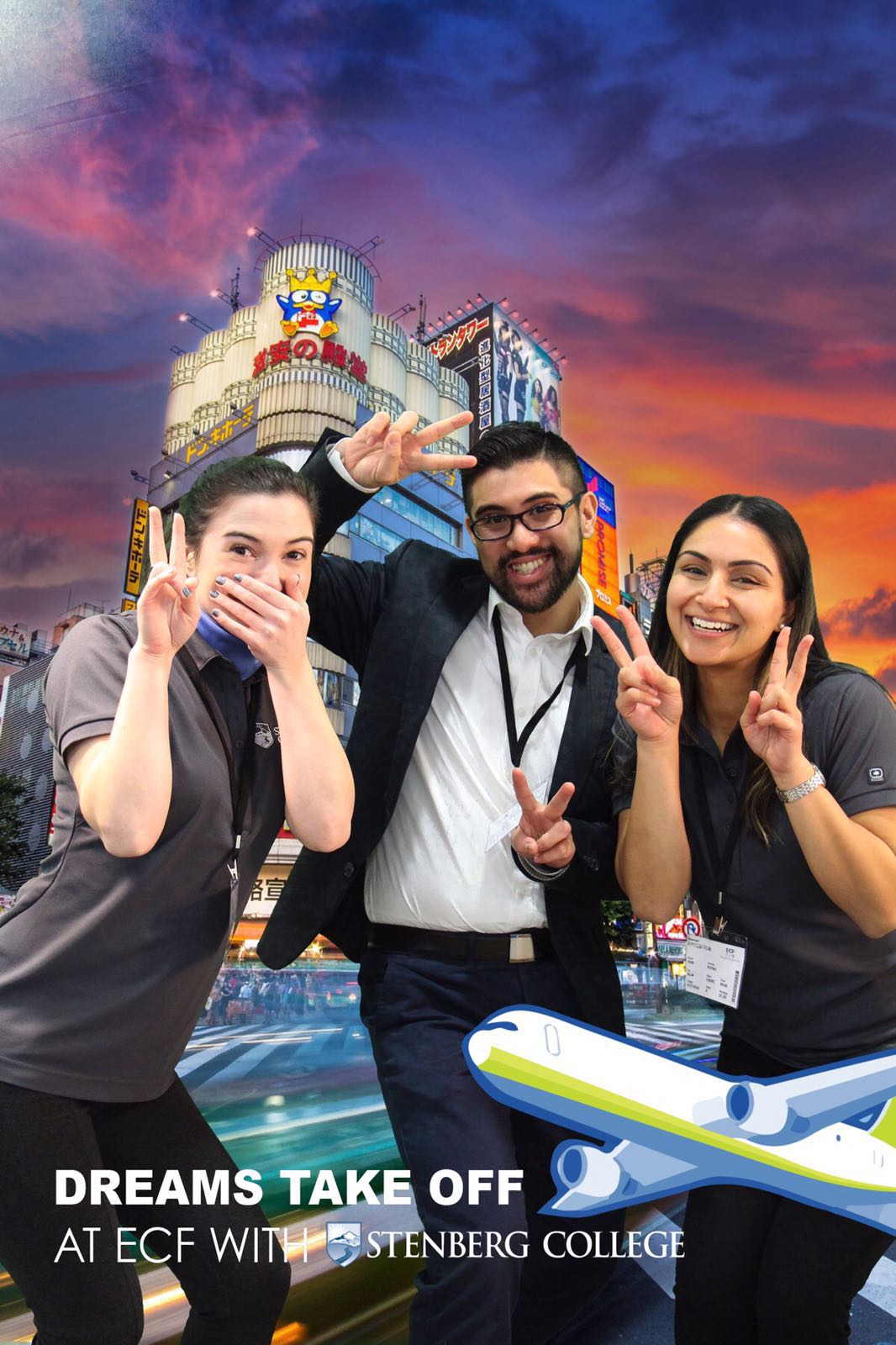 In addition, the attendees are able to learn about the health care and human services programs that Stenberg College offers, as well as the admission requirements and the duration of each program, and the wages they could expect to earn upon graduating and securing employment in that field. The attendees are able to divulge their interests for their future careers, and the Stenberg crew is available to ask any further questions they have regarding the private educational institution. To the delight of the Stenberg team, there have been a number of high school students and other individuals interested in entering the health care and human services fields, many of whom are considering Stenberg College as their stepping stone to a bright new future.
Furthermore, at each ECF event, Mark Estrada, Stenberg College Community Relations Manager, presents the tools on how to pay for post-secondary tuition and handle student finances like a boss at the ECF Learning Lounge. Some of his strategies include:
1) Ways to make money
2) Places to search for money
3) How to lower your tuition
4) How to reduce overall expenses
5) How to create a budget
Don't miss out on the chance to get valuable information on your potential future, and to have your photo taken anywhere in the world! Make sure to check out the Stenberg College activation at ECF on Friday, December 9 at the Vancouver Conference Centre.