International Students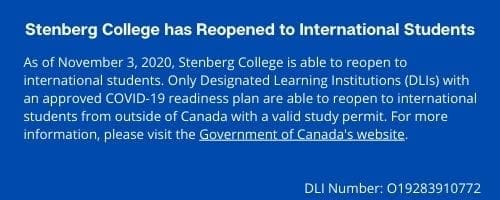 Starting a new life in a new country is exciting, and requires preparation. Stenberg College wants to support you in getting a head start by offering you the opportunity to receive quality, industry-accredited education to help launch your career in Canada. All our career-oriented programs include hands-on practicums, allowing you to apply the knowledge and skills you learned in class to a career setting.
Stenberg College offers our graduates transfer and articulation options for certain programs to public post-secondary institutions with British Columbia Institute of Technology (BCIT) or Yorkville University.
If you are looking for a rewarding career in health care, technology, or with children, we can give you the tools and education you need to be successful. Apply now and learn what it's like to study in Canada at Stenberg College!
Finances
You should budget anywhere from $780 to $1400 per month for your living expenses, depending on the type of accommodation you book. This would include housing, food and transportation.
Admission Requirements
English Requirements: Applicants whose native language is not English and wish to study at Stenberg College in one of the diploma programs MUST demonstrate their proficiency in English by way of Academic IELTS or PTE with minimum scores in IELTS of 6.0 overall and a PTE score of 51*

*Except where specified in the individual program admission requirements. For academic requirements, please refer to individual program pages.