Delivery Method: Combined delivery
Duration: 120 weeks
Start: Twice per year (March and September)
Credential: Diploma
Designation: Registered Psychiatric Nurse
Wages: $35.53-$56.25/hour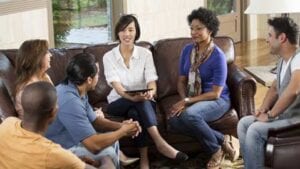 About the Career
Do you want to positively impact the lives of people struggling with mental health issues? Imagine a career where you can make a meaningful contribution to others and to society as a whole. As a Registered Psychiatric Nurses (RPN), you'll spend your days working with patients to promote mental health and holistic wellness.
Registered Psychiatric Nurses specialize in psychiatric and mental health care. Registered Psychiatric Nurses are highly in demand and practice as part of a multidisciplinary team in a variety of settings, including psychiatric units, mental health clinics, and mental health and addictions outreach teams.
As a Registered Psychiatric Nurse, you could work in:
Various health authorities
Hospitals and community agencies
Mental health and addictions programs
Inpatient and community services
Forensic service departments
Group homes & clubhouses
Not-for-profit organizations
Nursing education programs
Schools
100% of Stenberg College Psychiatric Nursing grads are employed in their field of study within 6 months of program completion.